This time three years ago I was squashed into my tiny New York apartment with my roommate, oldest friend, 3 brothers, two parents, aunt, uncle, several cousins, a brother's girlfriend, a couple of family friends and any cockroaches that had taken up residence in our Washington Heights abode.
My dad had done a lunch run and returned with an assortment of dips, cheeses and fruits which I was too excited to eat because I was getting married later that evening to a fella I had met at the restaurant where I hostessed at on the east side.
Gregory was the head chef of this dining estabishment, a very popular, expensive joint frequented by celebrities, New York dignitaries and a few shady characters affiliated with those people whose name rhymes with bafia.
When he asked me out I was shocked.
What was this ultra cool, tattooed, whiskey drinking, smoking super-chef doing asking out the naïve, poor, non-tattooed, non-smoking hostess?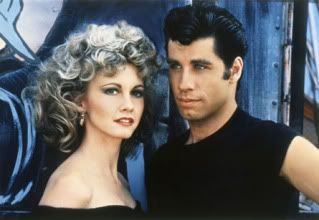 We were like Danny Zuko and Sandra Dee.
Ah well, I thought, I'll go out on one awkward, uncomfortable date, he'll realise we have nothing in common and we'll continue on at work just as were, since we'd never spoken before anyway.
We met for a 3pm lunch (it was Sunday in New York after all) at a trendy joint on the lower east side and I later discovered Gregory had been so nervous he'd locked his keys and phone in his apartment.
We got to know each other over lunch at the bar, chatted over coffees on the grass in Union Square, made out behind the self help section on level four in the Strand Bookstore and held hands all the way to Christopher street where I was watching a friend perform later that night.
A quick check of my phone saw 12 missed calls from my roommate who I discovered had sprained her ankle at work, and the American health care system being what it is, needed to go to hospital to verify the injury in order to claim workers comp and medical bills.
Six thousand dollars and six hours later, I silently declared this tough exterior, teddy bear interior chef a winner as he accompanied us to the hospital, carried in my friend and held my hand while we waited to see if she was ok.
We dated in secret for 6 months, meeting after work around the corner, then wiling away the night hours at restaurants and bars this tinned tuna, ketchup soup eating actress had never dared to even enter.
I left town for 4 months on a gig, and after enduring such a lengthy separation, was happy to follow my beau to the west coast with a job offer that was a good few rungs up the cheffing ladder.
We planned our wedding from there, returning to New York to get married in a converted foundry, the first and only venue we had looked at in the city.
Gregory's mates did the food, my mates provided the music, my brothers were my out-of-time under-rehearsed bridesmen, and we danced till 5am at a nearby bar with our dearest friends and family.
Since then, we've lived in LA, Gregory has cooked for Bill Gates, Brad and Angelina, and our fellow non-familied Santa Monicans. I've written two manuscripts, (both which have come oh-so-close to publication) done a couple of shows and missed many more, we've camped in Norway, done a 3-month road trip across the US, got my green card, visited Oz, moved to Oz, visited the US, shifted house a couple of times, changed jobs several times and grown our very own human.
That chef I met four years ago is now a non-smoking, adventure seeking, takeaway over-ordering, sock-dropping-where-I-leave-'em husband and father, and his two girls think he makes their world.
Dunno what we'll manage in the next 3 years, but I'm very excited to find out…