I've had a new idea for a book and I'm very excited to get started on it, so since today is Nona day (Nona being my mother) she pushes me out the door in between feeds so I can actually try and get some work done.
But before I left, I had to decide which notebook to start my novel notes in.
Yes, I do do the bulk of my writing on my dear computer (I used to give my computers names, but every time I did, they died a tragic death, so they now remain nameless) but I like to jot down ideas in my books in a haphazard mess that makes sense to no one but myself.
I'm quite particular about my notebooks.
They have to be lined. They have to fit in my purse.
I don't like ring binders because I am left-handed and they get in the way, I prefer off white or beige rather than stark white and I certainly don't like that paper to have a shine.
Matt recycled if you please.
These Naomi-specific books take up an entire shelf on my bookshelf, some lying in anxious wait, hoping they're the next to be plucked for use, others filled with thoughts and anecdotes about the people, places and experiences I've run into in this funny little world.
So this morning, while I was selecting the one to use for this new novel (I have a general notebook for every day occurrences, but I can't mix those with a specific topic, that wouldn't do at all) I found the book I'd used when we did the road trip across America before we moved to Australia last year.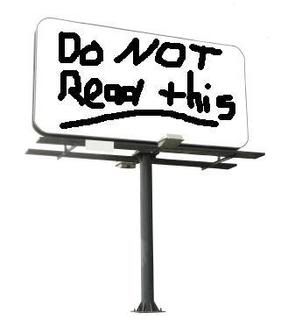 And I tell you something people, Australia comes a pathetic second to America if we judge a nation by its billboards.
Have a gander at some of these gems.
I swear I'm not making any of them up.
Nb – we started off in the more liberal of the US states, and slowly worked our way South. See if you can notice the change…
TAKE THE US OUT OF MY UTERUS
HAPPY FAMILIES = HAPPY KIDS
VIRGIN. TEACH YOUR KIDS IT'S NOT A DIRTY WORD
EVERY 28 SECONDS A NC TEEN HAS A BABY.
TEACH YOUR KIDS BEFORE IT'S TOO LATE.
FOLLOWING YOUR FRIENDS IS EASY. FOLLOWING YOUR HEART IS BRAVE.
LIFE. IT'S A RIGHT NOT A CHOICE
PREGNANT? SCARED? TEXT OPTIONS TO 94685
And my absolute favourite…
BREAST MILK IS THE BEST MILK. EAT AT MUMS.
See, told you, I couldn't make that stuff up.
And now to get started on that novel...